IT Infrastructure

IIIT-D has truly world class, campus-wide state of the art information technology tools that are designed to meet the computing and communication needs of the institute, which has a fast, reliable and rugged computer network of more than 500 Nodes. The institute has more than 100 laptops issued to its faculty, staff and students. To provide printing and other facilities, the institute has 91 printers and scanners. In order to facilitate proper teaching aid, all classrooms here are equipped with projectors and audio systems. All the hostels, faculty blocks, administrative block, library, classrooms and residences, are connected through redundant 10 gigabit fiber backbone network. All the blocks are connected through layer 2 & 3 switches to provide 1Gbps connectivity at the user end. Every hostel room has a dedicated LAN connection to provide round the clock access to resources on the net. Wireless network with 130+ access points is also enabled in the faculty block, library, classrooms and hostel blocks.
Internet Access: Through a 1 Gbps Internet leasedline from NKN with a backup connection of 100 Mbps running in failover mode. Internet connection range is provided through both Lan and Wi-Fi  in all blocks inclusive of residences, academic, dinning, library and hostels.
Data Centre: IIIT-D has a full-fledged data centre of its own. It hosts 40 Servers and network unified storage of 45.3TB. The data centre is powered by redundant UPS backup to ensure maximum uptime.  All servers are connected to Internet by public IPs
Data Centre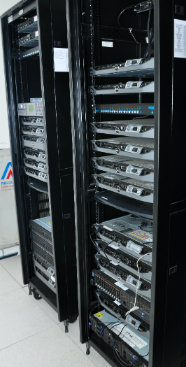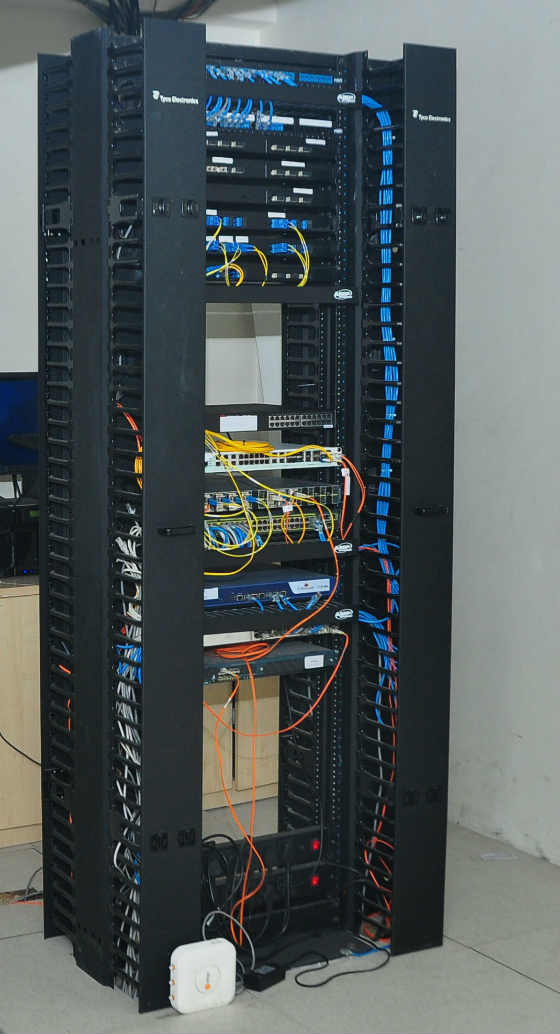 IP Telephony: Our entire Campus is equipped with IP telephony. It has 115 IP phones and more than 100 analog phones.
IP Address and IPv6: The institute has its own /24 public IPV4 and /48 IPv6 address block. It has taken an initiative to transform itself into an IPV6-enabled Campus.
Video Conferencing: Polycom HDX7000 VC System is available with optional ISDN line & also connected with Internet.
Cisco WebEx: We have single session 25 users Cisco WebEx web conferencing facility.
VPN: It can be used to access all IIIT-D IT resources from outside campus using any Internet connection.
UPS: We have 3 x 100KVA (Configured in N+1 in redundant mode) and 20 KVA (Dedicated)  UPS powering the critical IT infrastructure.
ERP: IIITD provides Academic ERP to students and faculty. For students, ERP provides the facility to register for courses, add-drop courses and view grades. For faculty, it provides the facility to view the courses they are offering, view list of students enrolled in the courses and enter grades.The ERP portal can be accessed at https://erp.iiitd.edu.in
Tape Library Backup Solution: The institute Data Centre has an LTO 6 Tape Backup solution deployed for taking onsite and offsite backup of critical data. It consists of a DELL Power Vault TL 2000 Tape Library and a Backup Server. Presently we have one Read-Write Tape Drive with 24 slots in our TL2000 Tape Library. The Tape Library is directly connected to SAN and provides direct backup from SAN storage, besides allowing us to make any server disk to tape backup through the backup server.