Facilities & Services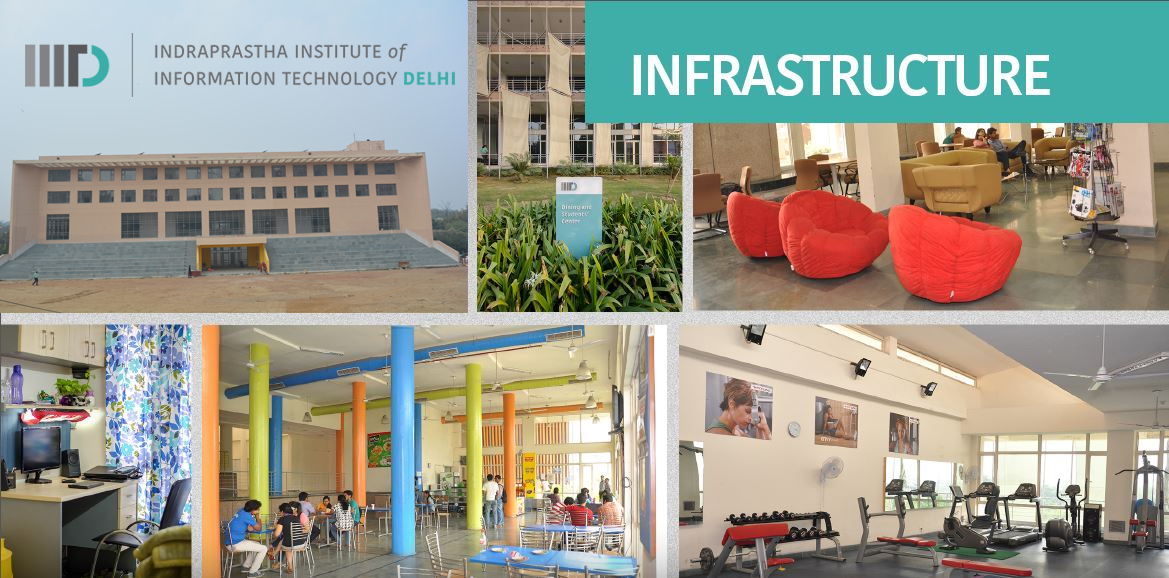 The Indraprastha Institute of Information Technology established by Delhi Act, 2007 endowed the establishment and incorporation of a non-affiliating and teaching institute at Delhi to facilitate and promote studies, research, incubation and extension work in Information Technology and its application domains, and also to achieve excellence in these and connected fields.
With the above objectives in view, the Government of NCT of Delhi allocated 25 acres of land to enable the setting up of the IIIT-D permanent campus, which is located behind the Phase III Okhla Industrial Estate at a distance if 1 ½ km (approx.) from the Okhla railway station, South Delhi.
The Academic Complex has a total of 10 lecture halls. There are two lecture halls with a capacity to seat 179, one of capacity 159, two of capacity 60 and five of capacity 30.
The Faculty and Research wing of the Academic Complex has a capacity of 50 faculty members and 8 research labs, along with the PhD rooms and M.Tech labs.
The Library and Information Center has a common study area for students on the ground floor, the library on the first floor and several labs on the upper floors.
The Dining and Recreation Centre contains the students' mess which is spread over two floors, a cafeteria and facilities for extracurricular activities, such as a music room, table tennis and pool tables, and a gymnasium.
The hostel area consists of a Boys' and Girls' hostel with a total capacity of around 550 students. The hostels have options of single, double and triple occupancy rooms, all of which are air-conditioned. The hostels have their own badminton courts and a well-equipped common room.
There is also a Faculty Housing Tower consisting of 5 guest houses, a director's residence and 27 faculty houses.