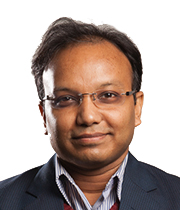 Sujay Deb
Associate Professor (ECE)
Ph.D. (2012), Washington State University
Contact Details
Profile
Sujay Deb is an Associate Professor in Electronics & Communication Engineering and Computer Science & Engineering at Indraprastha Institute of Information Technology, Delhi (IIIT-D). He received Ph.D. from the School of Electrical Engineering and Computer Science, Washington State University, Pullman, WA on May 2012. Before his current position, he worked as an intern at Intel Labs, Hillsboro, OR.
His major awards and achievements include DST INSPIRE Faculty award in 2012; Outstanding Ph.D. student award in Computer Engineering, WSU, 2011; Winner of India-US Grand Challenge Initiative for Affordable Blood Pressure measurement technologies in 2014.
Research Interests
Design of novel interconnect architectures for multi-core chips
Analysis of Network-on-Chip (NoC) communication fabrics in presence of long range millimetre (mm)-wave wireless links.
Teaching Interests
Digital VLSI Design
SoC Design and Test
Integrated Electronics