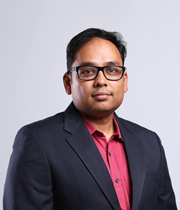 Vivek Bohara
Head & Professor (ECE)
Ph.D. (2011), Nanyang Technological University, Singapore
Contact Details
Profile
Dr. Vivek Ashok Bohara received the Ph.D. degree from Nanyang Technological University, Singapore, in 2011. From 2011 to 2013, he was a Postdoctoral Researcher (Marie Curie fellowship) in ESIEE Paris, University Paris-East where he was actively involved in designing and implementing critical blocks for wideband RF transmitters. Specifically, he proposed numerous green communication techniques to reduce power consumption and increase efficiency of nonlinear high power amplifiers used in RF transmitters.
In 2013, he joined IIIT-Delhi, India, where he is currently Professor and Head, Department of Electronics and Communication Engineering. He has authored and coauthored over 100 publications in major IEEE/IET journals and refereed international conferences, two book chapters, and three patents. Dr. Bohara also supervises the Wirocomm Research Lab at IIIT Delhi which deals with state of the art research in wireless communication and allied area and is also the co-founding faculty member for Li-Fi Centre of excellence @ IIIT-Delhi. His research interests are next-generation communication technologies such as Visible Light Communication (VLC), hybrid RF-VLC communication, integration of optical communication with intelligent reflective surfaces (IRS), UAV, and vehicular communication.
 Dr. Bohara received First Prize in National Instruments ASEAN Virtual Instrumentation Applications Contest in 2007 and 2010. He was also the recipient of the Best Paper Award at the IEEE ANTS 2022 and the best poster and demo awards at IEEE Comsnets 2016 and 2023 conferences respectively.
Research Interests
Visible Light Communication (Li-FI )
Cyber physical systems
Optical Intelligent Reflective surfaces
UAV and vehicular communication
Teaching Interests
Wireless Communication
Digital Communication and Wireless System Implementation
Affiliated Centres & Labs